Welcome to the A to Z blogging challenge! My theme is
Doctor Who
because its the topic my kids voted we do together. We're sticking with people, places, creatures, and episodes from the newer series starting with Christopher Eccleston's (#9) simply because we haven't watched all the Classics...yet.
You can find the list of other participants
HERE
. I'm #149.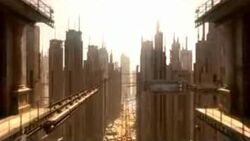 The Library
--I want to go here. Well, at least to the time before it was taken over by the Vashta Nerada (coming up on V day!) This is where we first meet River Song (R day), and what's not to love about a planet sized library! It holds all the books ever written. You could live a lifetime and barely put a dent in the number of books available. If you need a place to jump into the Whoverse, start here with
Silence in the Library
/
Forrest of the Dead
.
Lake Silencio
-- Situated in Utah, USA on the Plain of Sighs. You've already visited this famous lake where the Doctor dies when we introduced the
Impossible Astronaut
.
I think it's really cool how so many of River's episodes allude to the Silence (S day!). Even this lake's name is giving you a clue as to what's coming.
"Let's Kill Hitler"
--Not the first time we meet River, but this is the episode where she understands who the Doctor really is--in her timeline (we've known and loved her for a long time by this point)--and who she is. This is also where Amy's friend Mels reveals herself to be her daughter Melody. See how complex the Whoverse is!? Here are two short clips from the episode.
Can you tell River is one of my favorite Doctor Who Characters? Maybe my very favorite. If only I could decide!
Who is your all time favorite character?